The description just says "favoured foe that is alive", not "favoured foe that is alive and on screen". Is this a bug or just the game treating Krydle as if he's being played by a particularly convincing minmaxer?
That ability is Imoen's, actually, Krydle just seemed to be benefiting from it in a way that Warduke doesn't.

There must be some other hoodoo at work, because that 3.15e04 number is apparently the base number. Every time a beast comes on screen, it went up. When the screen was cleared, it went back down to that.

Now I'm running a different mission, and on low rounds, the base shield on Warduke is 2,223. Gonna leave it running while I go to work, and see what it is when they're up in the round 400-500 range.
Well, I left it running all day, and around round 520, the ability has upgraded even more.
I guess it just gets stronger with Imoen's level. Which is 1560 at this point.
And so on, and so on...
So it's not Krydle that's an amazing tank... it's that Imoen makes pretty much anybody an amazing tank. She refreshes the spell every time a new area is entered, or every 8th attack she makes (and she attacks every 1.75 seconds). Add on to that that Warduke is already the best tank and the best DPS, and it just gets ridiculous.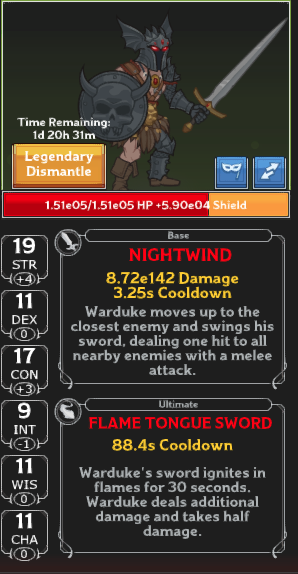 It should be noted that at this area level, a typical single attack against Warduke does about 1300 damage. And even if he weren't getting stoneskin, the party is healing him for ~7000 hp per sec. He is a tanking MACHINE, and only gets stronger the more he gets attacked.
Last edited: