Space Battleship Tiramisu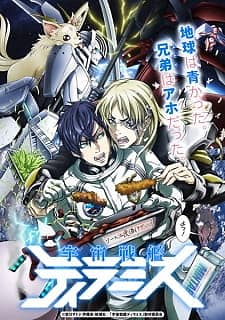 Genre: Sci-Fi, Comedy, Action, Ecchi, Satire
Fanservice: Lots and lots of PG-13 both male and female. Male shower scenes, oversexed scantily clad gainaxing gazonga girls.
Premise: Subaru Ichinose loves his cockpit as, to him, it's like being in his mother's womb. Whenever he struggles to converse with his fellow pilots, his cockpit is the one place he can be alone. As the ace pilot aboard the Tiramisu, Earth Union's most important battleship, it is his job to defend Mother Earth from the threats that emerge from humanity's extended dominion spreading throughout the vast reaches of the universe. Armed with his personal mecha Durandal, Subaru must fend off encroaching foreign colonies as he struggles to protect his personal sanctuary from rogue fried pork skewers, suffocating backwards shirts, and unsolicited redecorations. In the year Space Age 0156, the fate of humanity rests entirely in his hands.
Or, that's what AnimeList would have you believe. The truth is this is a gag series. Complete and utterly taking the piss from start to finish.
Tiramisu is a hilarious absurdist farce riffing on all the oh-so-serious space mecha anime that have come out over the years. Everything from Yamato to Sidonia is skewered by this juvenile but hilarious 7-minute-episode cavalcade of gags, delivering wry, deadpan humor, purile bathroom jokes, and a healthy dose of not-so-closeted homoeroticism. There are giant space chihuahas, talking pubic hair, OCD galore, and it tries to deliver it all with a completely straight face. It's been a while since a humor-based anime made me laugh as much as this one has. The localization team did a really good job with the english dub, too, so I highly recommend you watch it in english. This one's a keeper.
Verdict: Very good (4/5)
Last edited:
1