"Absolutely Volo, the quicker the better. This looks like a wonderful change of pace compared to our previous venture. Lead the way. Perhaps the rest of you can acquaint yourselves with our new neighbourhood. And on my way back I shall enquire about some builders. None of you are carpenters are you?" Then walks out the door side hugging Volo.
I assume there is a neighbourhood info dump if we are supposed to live here.
So this building sucks. 5 doors for the first floor, but we have to outside to go upstairs? Nope gonna renovate that! Hence the builders. And ther does not appear to be a toilet on the ground floor? Do pubs not have toilets in Waterdeep.
So I will go sign the paperwork and see if I can grab the loot on the way back.
Are we level 2 yet?
Have any of you read The Kingkiller Chronicles? I would like to turn this into our version of The Eolian.
The Eolian is a well known and extremely popular tavern in Imre. The Eolian is a popular musical venue and bar run by Deoch and Stanchion. It is best known for the esteemed group of musicians who play there in hopes of earning a highly coveted set of silver talent pipes, and the possibility of...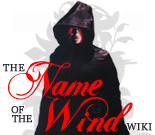 kingkiller.fandom.com
Complete with our own pipes. Since we are one third boards

Last edited: